Lanzarote Experience Tours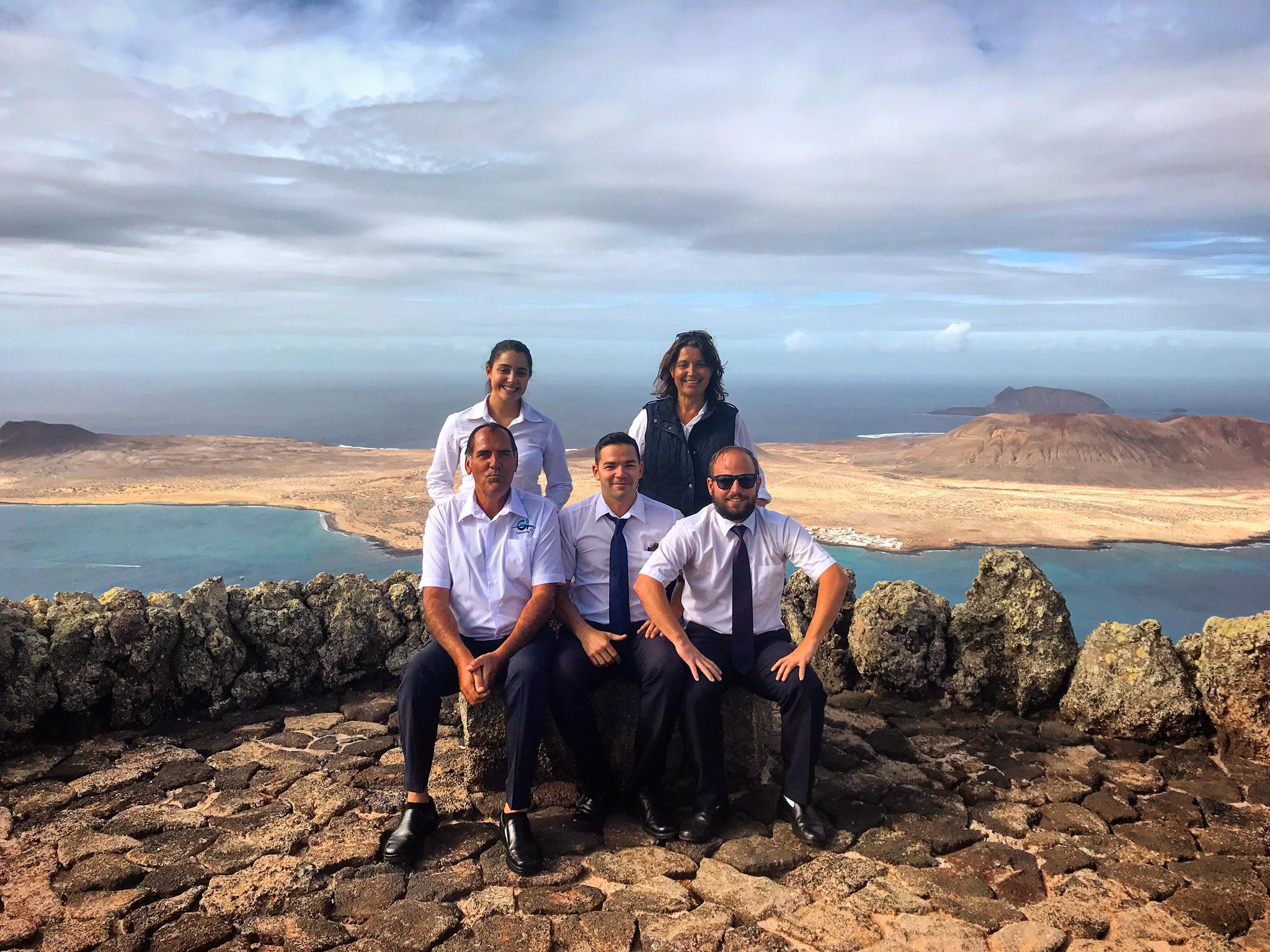 WELCOME TO LANZAROTE!
My name is Angela Tejera and on behalf of everyone who does LANZAROTE EXPERIENCE TOURS, I offer you a warm welcome to Lanzarote, the land where we were born and where our family has been living 7 generations, so we have lived the evolution of the island that we love. Our team is made up of guides from Lanzarote, who will make you fall in love with the island.
We are in San Bartolomé, a few minutes from the Monument to the Fertility. San Bartolomé is a well known small town s for its cultivations of sweet potatoes.
There is a lot to see and to do on Lanzarote, and it is true that you can visit the island by car but then, you would miss knowing the island in an intimate and deeper way.
You will find many companies that offer practically the same routes, but What makes the difference? Why choose us among all the options in the market?
Our excursions are not low cost: because we go in small group, from 4 to a maximum of 14 people, this means a more personal tours but of course, the cost of the minibuses raises the price, Nevertheless I assure you that the experience is worth every penny that you have paid ... I encourage you to read my daughter Cristina's comments on TripAdvisor. It is not because she is my daughter, but you will fall in love with her, her treatment, the love she puts into her work, her personality and her explanations are endearing. Keep in mind that we behave as if you were friends or part of our family and that is not achieved in bus trips of 30, 50 or 80 people.
Our excursions go just in one language: From my experience as a guide for more than 20 years, it is long and tiring to have to listen to other languages ​​and keep us silent so that the other members of the group can listen to the information in their language. By going only in English, we can devote all our attention, ask the questions or comments you want and enjoy the day as a family.
All tickets are included: In our excursions you will not feel cheated, all tickets are included and if you spend a few minutes comparing itineraries, you will see that ours are more complete. A good example is our Lanzarote Experience Grand Tour.
Lunch: We think that gastronomic culture is important, so we take you to those restaurants where people from the island go, where you can try Canarian food without being scared when paying for your food.
Your time is money: Being such small groups, the pickups are short, so you will avoid long pickups, being on the bus an hour and a half before actually starting the excursion. We do not make commercial stops because we understand that you will find souvenir shops near your hotel, so all the time you are on an excursion will be for you to enjoy the island.
We comply with the regulations: There are companies that make excursions on rental cars. Don't lend to it, and don't be fooled! It is an illegal activity in addition to unfair competition. What it is more important: if you have an accident you will not have coverage, in addition to inspectors and police checks that could put an end to your day of excursion.
Without intermediaries: Our excursions are not sold in hotels, it is direct sales through the website. But you can find our brochures at the Tourist Offices.
Let me explain why Lanzarote Experience Tours exists and introduce you our team:
The main reason that gave us the idea of creating our excursion company was to give an exclusive experience to visitors to the island, also create employment for the islands guides.
In 2009 there was an announcement on the television that gave a bad image of our profession and one day at home, watching a film My life in Ruins, I decided to create a tour company that was synonymous with quality and honesty. Thus Lanzarote Experience Tours was born in 2010.
The beginnings were not easy, but with the aim of always giving a quality service, creating new products and above all, through the comments that our customers have left on different web sites we have managed to create a reputation of good work.
TripAdvisor Certificate of Excellence 2015, 2016, 2018 and 2019.
Volcanic Experience Award for the best excursions in Lanzarote.
Tourism Quality Seal Lanzarote
The best of Lanzarote Experience Tours is our team:
Carol has been on the island for over 40 years and was one of the first guides in Lanzarote. Now retired and needing to occupy her spare time, helps us answering the phone and emails.
Cristina is our latest addition, she is a graduate in Tourism and an official guide for the entire Canary Isles. She works with the Spanish and German clients.
The administration is run by Mari Carmen and Maribel.
Our company would not be visible without Hakim, who is responsible for the design and improvements of our web site.
I wish you a great time on the island and that Lanzarote fills you with nices memories to make you wish to return.
With best regards.
Angela.
Mission
Lanzarote Experience Tours has the mission to offer customers who visit the Canary Islands, the services of quality excursions at competitive prices and adapting to the needs of cruise passengers with the assurance that they will be back to the dock with enough time to follow the itinerary, innovating and adapting constantly to changes in the world of travel.
We are committed to exceed the expectations of each of our customers, suppliers and our environment, providing the best service and the best market conditions; Accompanied by a friendly and cordial treatment, looking for permanent relationships based on the total confidence that is only generated over time, demonstrating compliance and excellence.
To fulfill our commitment, we have professional and trained staff in all the functions of each of our areas, giving the staff a good working environment, making them feel that they are an important part of the company.
Vision
Our Vision is to be by 2025, the best alternative for cruise excursions in the Canary Islands and to be known in national and international travel, ensuring the satisfaction of our customers.
We project ourselves to grow oriented in the quality, security, experience and service for our clients, increasing the profitability of our business, while we work in a sustainable way, impacting positively on the environment, economic and sociocultural environment.
Our values
As part of our corporate culture, we assume the following values as standards or principles of conduct:
First the Customer
The satisfaction of our clients is essential for the success of Lanzarote Experience Tours. We recieve satisfaction when we listen, understand and anticipate your needs and we achieve your expectations.
Integrity
We are constantly committed to practicing the highest standards of integrity. We are honest, ethical and fair in all our activities. We keep our word and confess our mistakes. We take responsibility for our actions and treat everyone with respect, to ensure that Lanzarote Experience Tours continues to be a company that deserves confidence.
Quality
At Lanzarote Experience Tours we have high quality standards and our goal is to improve it continuously in everything we do. We define quality for the safety of our services, for our technical teams, compliance with current legal requirements, the motivation and training of our staff, the integrity of our people and the low impact on the environment.
Sustainability
The Lanzarote Experience Tours activities are environmentally friendly, socially fair and economically profitable. While our services attend to the needs of our clients, they also serve the community, because in parallel we protect and promote opportunities for the future.
Teamwork
In Lanzarote Experience Tours we have understood that our strength and competitive advantage is and always will be our people. Our team spirit unites us. We work to fulfill our common goal of transferring experiences. We cooperate, collaborate and help each other to create a participatory and motivating workplace.
Space for Creativity
In Lanzarote Experience Tours we are open to ideas that challenge the ordinary and the existing ideas. We invite everyone to look for new services, new ways of doing what is known by innovating in what is currently being done. We believe that Lanzarote Experience Tours can grow as a travel agency and our staff can learn in work and private life.